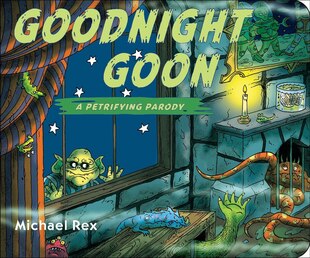 Little A saw an ad for this book earlier this week and his been after it ever since. He's recently taken to "reading" Goodnight Moon to us at bedtime and he takes it and his flashlight to sleep each night. There is something particularly darling about finding him fast asleep with his book and his flashlight tucked under his chin!
And he was SO excited about the "Ha-ween version of his favourite story I had to go out and get it for him. He cracks me up as he snuggles in to read it - he pretends to shiver and pulls the covers up to his chin and says "I'm scared" in this funny squeaky voice. He's almost got it memorized and he loves to join in for "And goodnight to the old Werewoolf hollering BOO!"
We usually have to do the Boo several times.
Definitely worth the mad dash to Indigo :) I would HIGHLY recommend this little board book.
Sleep tight. Spooky dreams!